After a year out of the office, we've all gotten a bit too used to that extra 30 minutes in bed. Is that impending commute filling you with dread? Save yourself a few extra precious minutes of sleep without compromising a fresh, just-washed feel with our dry shampoo. Check out our tips and tricks on how to use dry shampoo to get the most out of your second day style, you can thank us later.  
what is dry shampoo and what does dry shampoo do?
Wash day without the water, dry shampoo is the answer to all our lying-in prayers. Dry shampoo can come as a powder or fast-drying spray and targets those oily roots, absorbing excess sebum and leaving your hair looking and smelling fresh.
how to use dry shampoo
It may seem as simple as just pointing and spraying – but there are actually a lot of common mistakes that'll leave you a white, powdery mess. To help you avoid 'dry-shampoo-head', we've shared our trade secrets on how to use dry shampoo for refreshed, residue-free locks.  
spray at least eight inches from the head
If anything's going to leave you with a powdery cast, it's spraying your dry shampoo too close to your head. To get the most out of your product, hold it around eight inches away from the scalp. This will make it easier to distribute and leave you with an evenly refreshed look.  
let it absorb
When it comes to dry shampoo, patience really is a virtue. Letting the product sit for a while and work its magic will allow it to absorb as much excess oil as possible. Trust us, it's worth the wait! 
massage thoroughly into the scalp
Listen up, this one's important. Once you've given it time to absorb, massage the dry shampoo into your scalp as you would with a wet shampoo to distribute the product evenly. Brushing the hair after application is also another way to keep the white cast at bay.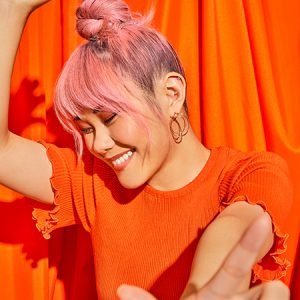 the best dry shampoo ever (we promise)
So you know how to apply it, but what is the best dry shampoo to use? Enter amika's perk up dry shampoo. The 'holy grail' of dry shampoo, perk up can be (and should be) used on all hair types.  
Instead of the usual aluminum starch, we've opted for rice starch to restore the hair's natural volume, and used plant oils and amino acids to nourish the hair from the roots.  
How to use: shake well, hold 8 inches from the head and spray onto desired area, focusing on roots. Wait 30 seconds for the product to absorb, then massage through as you would with a wet shampoo. Brush through for more even distribution.