When it comes to frizzy hair, no one is safe. We've all been there; we've all experienced the pain of perfect curls and bouncy blow-drys turning to an unruly ball of frizz. So, how do you get rid of frizzy hair?  
We've done some digging and have put together our top tips on how to tame frizzy hair.  Transform your strands from frizz to fab with our ultimate frizz-fighting guide. 
what causes frizzy hair? 
So, you're suffering from some serious frizz and it seems like nothing will keep it at bay—we have bad news and good news. Bad news: there are a lot of reasons why your hair is feeling the frizz. Good news: we've figured out the top reasons for frizzy hair and have broken them down for you.  
you've cranked up the heat
Frizzy hair is often a sign of dry hair: hot climates and heat styling are not your friends. We all love a hot shower, but using hot water to wash your hair could be the cause of your unwelcome frizz. Excess heat, from water or heat tools strips the hair of all the natural oils that keep it lush and shiny. Instead, focus on locking in moisture to keep frizzy hair away.  
overwashing
We all love that wash day feeling, but washing your hair everyday can lead to (you guessed it) frizzy hair. Using harsh shampoos can strip away oils and leave your locks looking dull, dry, and frizzy.  
damaged hair
Brittle, split ends? Damaged, colour-treated, or bleached hair is sure to earn you some serious frizz.  
curls or coils
Being blessed with a gorgeous head of curls or coils isn't always as perfect as it may seem. Textured hair is prone to dryness and taming frizz is a daily battle for these hair types.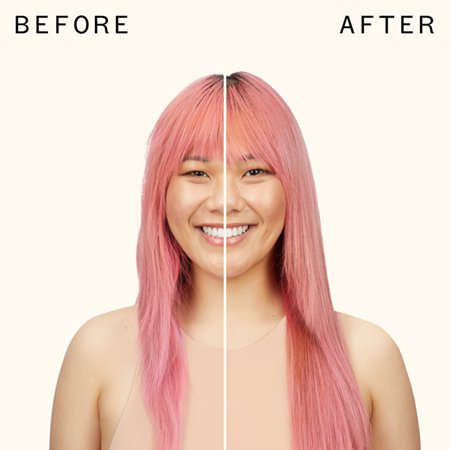 how to get rid of frizzy hair
Now for the good part: the best frizzy hair products and our tips on how to stop frizzy hair.  
dial down the heat
Super-hot water and too much love for your blow dryer are not doing your hair any favours. To improve frizzy hair, dial down the heat in your shower and use warm to cool water to wash your hair. Even better, do a cold rinse at the end of your wash routine to seal the hair follicles and lock in moisture.  
If you really can't say goodbye to heat tools, try to limit their use and always use a heat protectant. Our blockade heat defense serum is a lightweight, glossy anti frizz serum that helps to shield your locks from heat damage up to 232 °C. Apply 1-3 pumps of blockade anti frizz serum to dry or damp hair prior to heat styling. For the perfect finishing touch and an added moisture boost, apply 1-2 pumps through dry hair, really focusing on the ends.